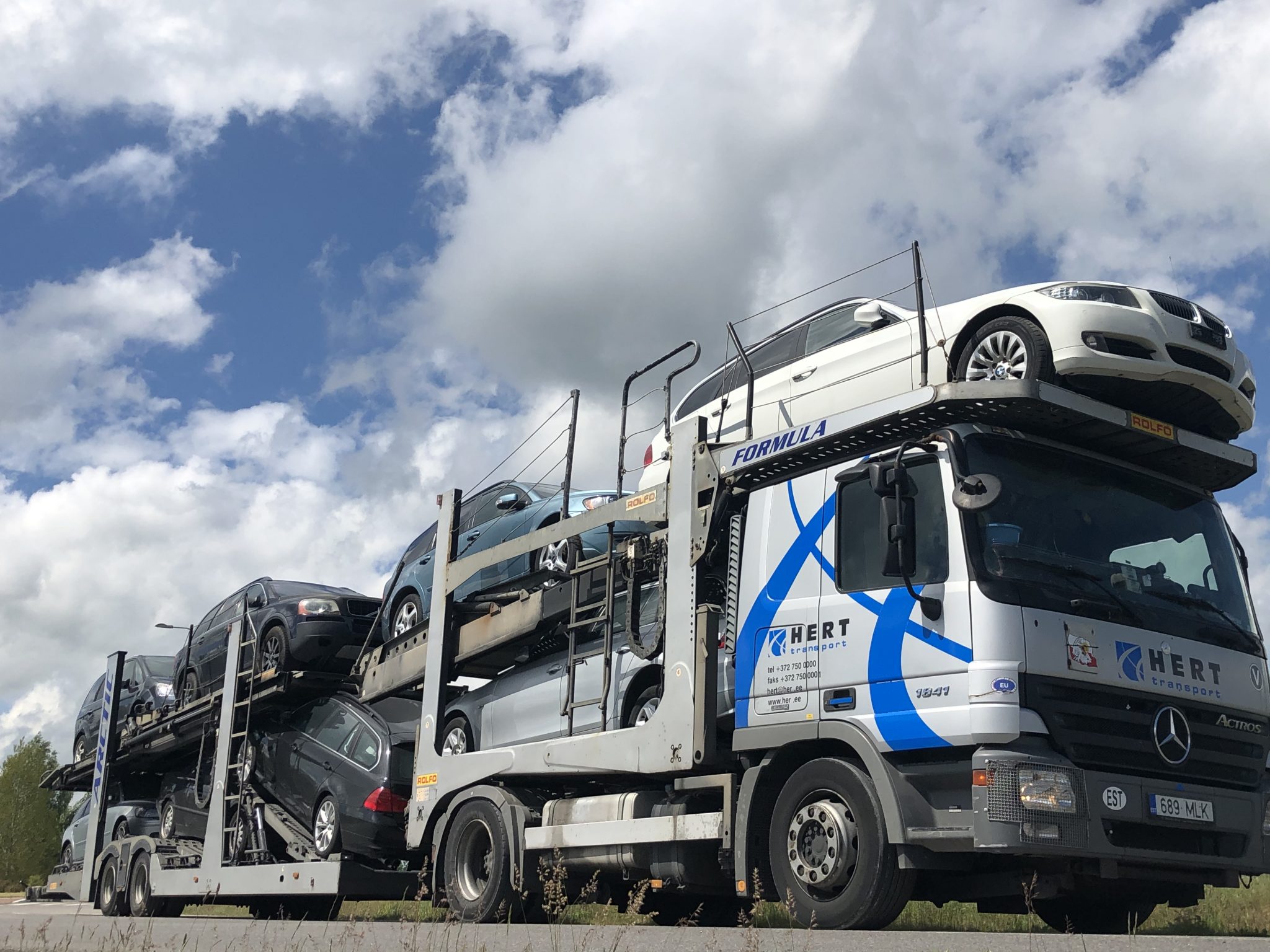 If you've ever wanted to transport your car from one country to another and you never knew where to start with the car hauling or driving process, don't worry; this is where to start. We offer you the service of car hauling currently within Estonia, Latvia, Finland, Sweden, Germany, Netherlands, and Belgium. Still, we see ourselves expanding to new territories in due time. It all depends on how quickly we can get our car carriers to safely transport our customers' cars to different regions of the world.
We deliver all kinds of cars; ones brand new, ones dearly loved, ones hated, ones with potential, and ones on their last breath. Our delivery system gets all our cars at the place where they are to arrive in near perfect conditions as when obtained.
Contact us to fill out a form and we will help you with car transportation. Filling out the form helps us to decide on how we can provide our services; whether it is possible or not, how soon we can do the things required of us, where the car is going and getting from, and how much it would take for the whole ordeal to be over. 
After filling and submitting the application, the customer has to wait for a reply from Hert's employees. The employees will provide information on the things that are to be done by the applicant. Hert employees would notify you of any problems that car carriers might have with carrying a specific car or the company's inability to meet particular customer needs in their response.
It is important to note that the processes taken to provide services to one customer might not be similar for all customers. Various scenarios call for different extraction and delivery methods, and some might acquire a lot more detail, even tactile communication than others.
Terminal to Terminal Car Transport
Some clients prefer terminal to terminal car transport. If your car transport involves long distance, this is the best option for you as it is versatile. All the more, your car is stored before and after pick-off with terminal to terminal delivery.  Consult with our team, and get to know the best car delivery service option for you in your location. We transport your vehicle anywhere in the US, Russia and Europe. Hert is the perfect service for your car hauling needs. 
Car hauling inThree Steps
Know the quote of your car transport with ease. Call us or use the contact form on our website to let us know what you're looking to transport and where. Hert Transport will use this information to provide you with a competitive price quote. After clearing the quote, sit back and relax as we move onto the next step.
Our team will reach out to you. You will be given a time on when to expect the car carrier to pick the vehicle up. The team will not deliver unexpected but you'll have the contacts of the delivery team. On every step of the way, we'll keep you posted. You will have the liberty to contact the delivery team and know the state of your cargo. All Hert Transport trucks have radio transmitters, GPS trackers, and mobile connectivity.
The cargo finally gets to you. Ensure you check for any damage, which seldom happens. When all is set, it is time to fill through the paperwork, or take digital photos and everything will be well set. Car hauling is simple with Hert Transport. You can count on our car transport ability to have your vehicle delivered with speed.
Hert has some of the lowest prices for car hauling out there than many other companies offering the same services. Apart from its comparison to other countries, it alone as a company offering car transportation services can potentially save a lot of money for an individual.
Situations in which individuals need to spend quite a bit of money to get a car from one place to another can be quite expensive, and it would be prudent if a person is to avoid them.
We save you a lot of time
People looking to transport their cars on their own should expect it to take up quite a lot of time. It might just be a situation where a person has to drive up to the country where they need to get the car and then get back from where they came. The whole ordeal can be quite a daunting process that not everybody is ready to take up; that is why Hert is available. It saves individuals from potentially heavy stress from taking up car hauling or driving on their own.
Our services offer a more particle approach
Our services are more practical because they often involve car carriers carrying multiple vehicles at a time. For individuals looking to transport multiple vehicles, it would be ridiculous to perform the task numerous times, and that's where our services come in. We provide energy-efficient car hauling methods as our car carriers carry multiple vehicles at a time. There is a lot of time saved for drivers of the car as only a few of our employees can handle transportation.